These oil palm biomass can be conventionally applied in oil palm plantations as soil mulch and fertilizer, because they contain large quantities of nutrients, can fully decompose in the field within one to two years. By chopping or shredding the biomass into smaller pieces would faster decomposition rate and help the biomass release large amounts of its nutrients. 
EFB Shredder model KJDS318D+, was shipped to Peru in February 2016. Can convert fresh oil palm EFB into short fiber (10-35mm) by one step. 
The machine was fabricated with a customized electric motor and control penal for power 440V/60HZ. The whole system includes a 6m feeding belt conveyor, 10m output belt conveyor, EFB chipper, and electric control panel. The main motor is 132KW, a capacity of 12-15 tons per hour. The output short EFB fiber will be used in composting.
Details of the Machine:
Type

Motor

Capacity

Machine Dimension 

Weight

KJDS318D+

132KW/1490rpm

12-15T/H

3500*2400*1900mm

8300kgs

The whole system includes

 

1. Feeding conveyor: width 650mm, length: 6000mm

2. Output conveyor: width 800mm, length 10000mm

3. Electric control box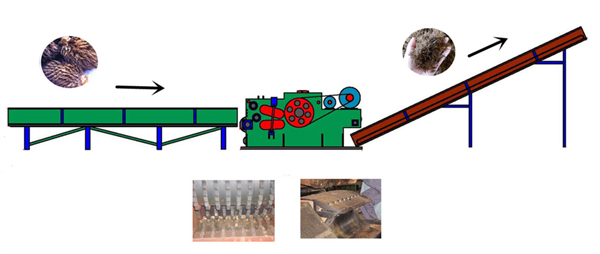 Input EFB

 

Before pressing, MC 60-70%

or after pressing, MC: 35-45%

Application: Composting / Organic fertilizer